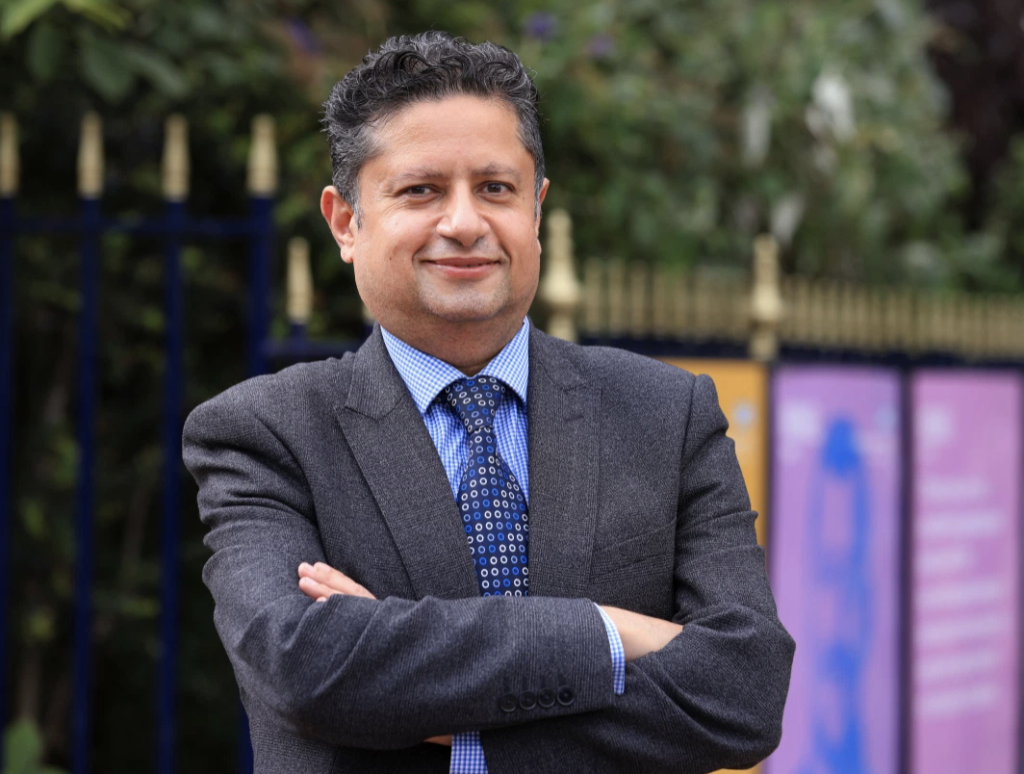 The neurosurgery team at King's College Hospital
FOR Dagmar Turner, the love for her violin ranks just behind the love she has for her family.
So when the prospect of brain surgery to remove a tumour threatened her ability to ever play with her beloved orchestra ever again, her surgeon came up with a novel idea.
Dagmar, a former management consultant, 57, from the Isle of Wight, said: "It was suggested I play the violin during the surgery to make sure the areas I use for playing stay intact."
Professor Keyoumars Ashkan – the surgeon at King's College London who came up with the plan – has been nominated by Dagmar for a Who Cares Wins award for his world first idea.
A talented pianist himself, Professor Ashkan wanted to preserve Dagmar's talent.
Prof Ashkan, 53, said: "Having met Dagmar on several occasions before the operation, I knew the importance she placed on being able to play the violin.
"When carrying out neurosurgery, preserving quality of life is one of the main considerations, which is why we decided to have her play during the operation.
"We wanted to ensure that the delicate area of the brain responsible for the fine movements in her left hand wasn't damaged during the tumour removal.
"We'd woken patients mid-operation before to perform language tests so we were confident that given the right planning, we could successfully rouse Dagmar to play violin during her surgery."
Diagnosed in 2013 with a large slow growing brain tumour after a seizure, Dagmar, who plays for the Isle of Wight Symphony Orchestra, underwent a biopsy and radiotherapy. Checked every few months, at the end of 2019, a scan showed the tumour had started to grow again and surgery became the only option.
The team at King's College Hospital spent two hours before the surgery carefully mapping Dagmar's brain to identify areas which became active when she played the violin.
She said: "The plan was to wake me mid-procedure from the anaesthetic and have me play to ensure surgeons didn't damage any of the areas I needed to keep playing.
"It was such a novel idea and the team had worked so hard to come up with the idea, I jumped at the chance.'
With a passion for music as well as medicine, Professor Ashkan understands Dagmar's passion.
She said: "I knew how important the violin is to Dagmar as a semi-professional musician, so it was vital we preserved that function. We managed to remove over 90 percent of the tumour, while retaining full function in her left hand."
While Dagmar playing the violin during surgery is a world first she put her entire faith in a fellow musician, which is why she believes Professor Ashkan and his team deserve the Groundbreaking Pioneer award.
She said: "It sounds a strange thing to say but he made the entire experience fun and entertaining, maybe it wasn't for him or my family, but it was such a novel approach and he completely understood what my music means to me.
"The thought of losing my music career to save my life would have been so hard to deal with but because he loves the piano like I love the violin, it became a challenge to overcome rather than something I had to sacrifice for my health. I'll never be able to thank him or the team enough so nominating them for a Who Cares Wins award is my way of saying thank you."